Do you find it hard to find the blessings in life sometimes? I know I do. It's so easy to get caught up in the busyness of day to day life. Dishes have to be cleaned, clothes have to be washed, babies have to fed and bathed, floor swept and on and on. It never ends. There's always something else to do.
It can be so easy to wake up in the morning and go throughout your entire day without even thinking about God. Without giving him thanks. Without seeing all of the blessings he has poured down on you just today. I am determined not to let this happen. I want to enjoy this time I have. I want to see God around me, to be aware of his presence in everything. I want to count my blessings every day and be so overcome by how good God is because the fact is I can't count all of my blessings. They are too numerous to count. Even on the hard days. The toddler puking and baby screaming days. Still, they are there.
Little hands to wash.
Cheerios left on the floor.
Leftovers to pack for lunch.
What about you? What blessings can you find in the unexpected?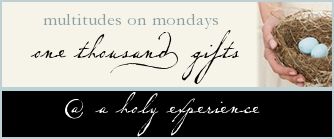 70. Finding God's faithfulness in my BSF lesson
71. Unexpected time spent one on one with my oldest
72. New markers
73. A homemade hat
74.Time alone with a book
75. Laughter shared between friends